Thank you for participating in the fifth annual PT Alumni Scholarship Competition between the DPT classes of 2012, 2013, 2014, 2015, 2016, 2017, and 2018. The competition ended at CSM on January 24, 2019.
For the third year in a row, the winner of this year's competition is the Class of 2016! 
Thank you to everyone who participated. Your gift is an investment in our students and the physical therapy profession. 
Please note we will be able to identify your class year and you do not need to enter that information on the gift form. All gifts are tax deductible!
---
It was because of your participation in the 2018 competition that Haleigh Parola, SPT'19 was able to receive scholarship funding this semester: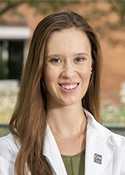 "I would like to extend a heartfelt thank you to everyone who donated to the scholarship competition making it possible for me to receive this scholarship. This news was exactly the boost I needed to help me feel empowered in my final year of the program and was a reminder that I have a great support system who believes in me to succeed as a future clinician. The funding lessened my financial burden enabling me to better care for myself, which in turn helps me provide better care for my patients."
Haleigh Parola, SPT'19