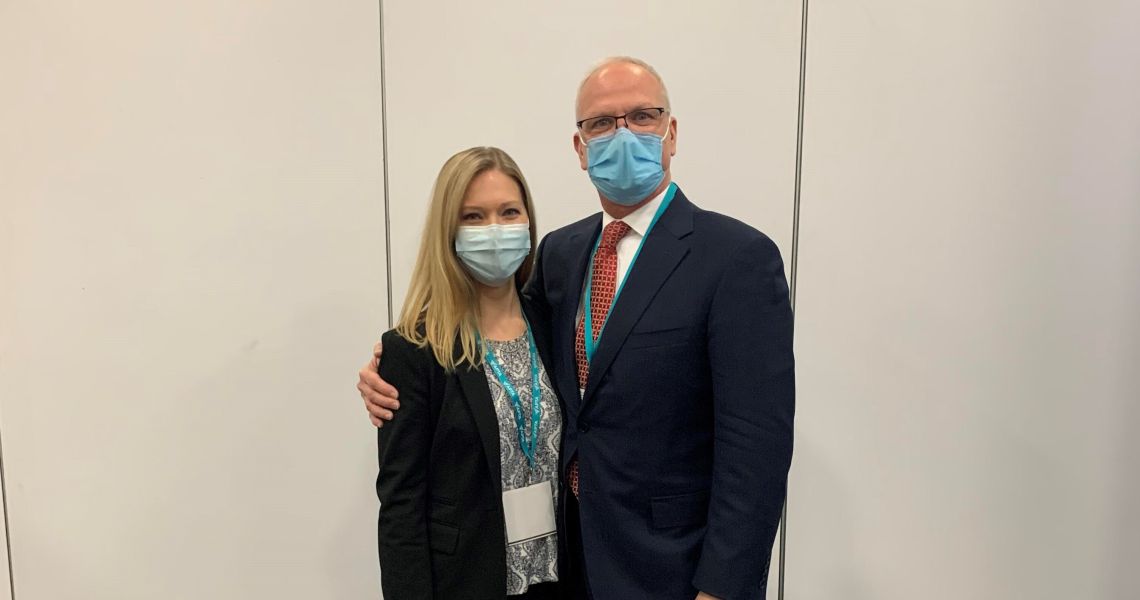 There are no limits to Katie Zisk's achievements. The George Washington University (GW) School of Medicine and Health Sciences (SMHS) alumna earned her Doctorate of Physical Therapy (DPT) in 2016. Since then, nothing has slowed her down as she continues to achieve her goals and make an impact in the physical therapy profession. 
After graduating from GW, Zisk pursued a Fellowship in Advanced Orthopedic Physical Therapy Practice, Research and Education at Northwestern University, to advance her clinical reasoning and skills. During the specialized training, Zisk was encouraged to participate in research, which led to her platform presentation during at this year's American Physical Therapy Association (APTA) Combined Sections Meeting (CSM) in San Antonio, Texas. 
Each year, CSM brings together physical therapists, physical therapist assistants, and students from across the country to attend lectures on various topics, share research findings and clinical experiences, and network within the field. 
In her presentation, Zisk detailed the ongoing clinical trial researching integrated physical therapy in the Emergency Department for patients presenting with acute low back pain. The study focuses on researching outcomes of these individuals in the ED and at a follow-up outpatient physical therapy evaluation seven days later. 
Zisk also recalled the first time she attended CSM as a DPT student at GW. "I admired all of the presenters and wondered what it would take to get to that point," she said. After years of hard work, endless determination, and true passion, she stood on that stage, presenting her research in front of her mentors, peers, and students.
Zisk had many highlights during that this year's CSM. However, the one she most cherishes was presenting during the same session as Kenneth Harwood PhD, PT. It was a full-circle moment for her, since she had been a research assistant for Harwood and Ellen Costello PhD, PT during her time at GW. "It was a pretty surreal moment, and one that illustrated how far I've come," Zisk said.
Currently, Zisk practices at the Shirley Ryan Ability Lab in Chicago, Illinois. She plans to continue her research and hopes to publish her research findings in the future.