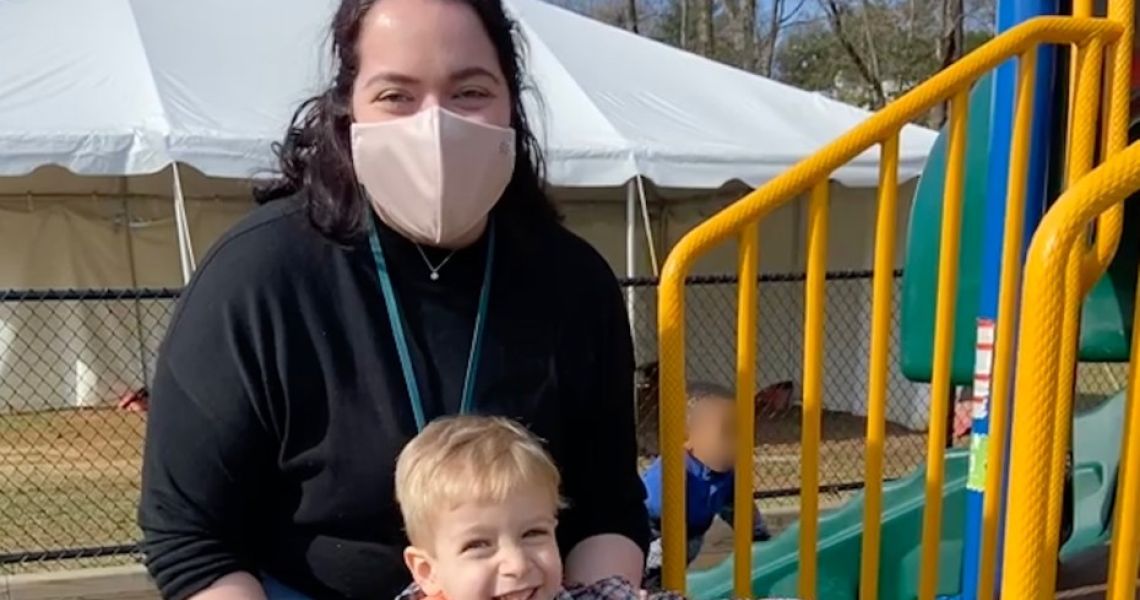 The George Washington University (GW) School of Medicine and Health Sciences Doctor of Physical Therapy (DPT) Class of 2022 is in the home stretch, with students completing their final clinical rotation before graduation. Several students are using these final rotations as an opportunity to work in unique settings to fine tune their clinical skills. 
Third-year DPT student Rachel Wilcox is completing her rotation at Ranchos Los Amigos National Rehabilitation Center (RLA) in Los Angeles. She works in an outpatient setting, tackling some of the most complicated orthopedic and neurologic rehabilitative cases in the country. 
She describes how each patient is highly complex which requires a lot of flexibility when planning out a session. "Regardless of how many plans I make for a patient encounter, it never goes how I expect it to. I've definitely learned the importance of having a backup plan prior to each session," Wilcox said. 
While Wilcox describes the experience as challenging, she added that GW's curriculum provided the sound clinical reasoning skills necessary to navigate these unexpected situations and medical emergencies. 
"I have felt very supported and encouraged to ask questions by all of the clinical staff," Wilcox said of RLA, which she described as a welcoming learning environment. Students at the center have the option to participate in classes on topics regarding motor learning, gait analysis, and orthosis fitting. Wilcox has taken advantage of these opportunities and took a transfer training course to learn how to transfer maximum assist patients safely and effectively. 
Wilcox's previous experience within the military system, and her involvement in brain injury and amputation recovery programs, sparked an interest in both orthopedic and neurologic populations. Wilcox loves the challenge RLA brings and hopes to find a similar venue where she can continue to work with both populations after graduation.
Tracy Bettencourt, also a third year DPT student, is completing her final rotation with a school-based physical therapist at a number of different locations in the Fairfax County Public School System. Bettencourt was drawn to school-based physical therapy through her love of working with this age group. She added that physical therapists working in the school system are an important part of the team assisting student participation in various activities throughout the school day. 
"A setting like this allows you to see a child in their natural environment and work with all the people in their life," Bettencourt said. "This allows you to get a full picture of the child and figure out what you can do to help meet their needs."
Bettencourt treats patients with a wide variety of diagnoses, including cerebral palsy, Down syndrome, intellectual disability, autism, Rett syndrome, and spina bifida. While motivating children with cognitive disabilities to participate in therapy can be challenging at times, Bettencourt said it is rewarding to know that the interventions help the students be more successful in navigating the school environment. 
Ultimately, Bettencourt's goal is to work as a school-based PT. "Children with special needs often have a lot of adversity to overcome, and I want to be part of the team to help them do that."