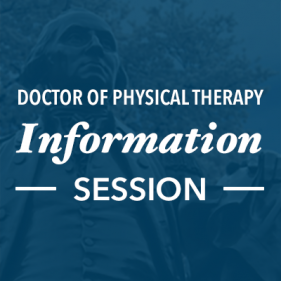 Where
The information session will take place online. Please join us on September 15, 2021 at 5:00 pm, by clicking on the following link: PT Virtual Information Session.
Based on the belief that health and function can be improved through physical interventions, Physical Therapy (PT) is a healing art that uses techniques like therapeutic exercise, joint and soft tissue mobilization, cardiovascular rehabilitation, wound care, neuromuscular re-education, and the use of physical and mechanical modalities to help treat patients. PTs are vital members of the health care team who work closely with physicians, physician assistants, occupational therapists, nurses, psychologists, social workers, speech pathologists, and others to meet the individual health care needs of each patient.
Join us for an upcoming online information session to learn more about the GW Doctor of Physical Therapy (DPT) Program and our admissions process. This information session is designed to equip prospective PT students with information to make an informed decision about joining the profession. Attendees also learn about the Program's approach to educating future clinicians.